The holidays can be a stressful time for marketing teams tasked with running the company's holiday gift programs – particularly this year! The holiday season is a can't-miss opportunity to recognize and thank customers, partners, and employees with gifts and rewards. But managing holiday gifting programs is not for the faint of heart! There are recipient lists to be made. There are addresses to be collected, and then there is the race against time to get gifts selected, purchased, and mailed before looming deadlines for mail delivery. All of this planning, managing, and tracking can put a lot of undue strain on your team members who may be already stretched thin with their regular responsibilities in the final quarter of the year.
With limited time and resources, you need to find a way to make the holiday gifting program scalable to hundreds or even thousands of customers. The key is to use gifting tactics that can be executed quickly and efficiently but can still create customer engagement and goodwill.
With that in mind, here are three holiday gifting programs that you can execute without having to devote a small army of marketers to running the logistics. We will also show you how these gifting programs can be adapted for your ABM strategy.
Give the Gift of Genuinely Useful Content
Everyone loves tools that save time or provide new insights. You can help your customers become more productive at work by giving how-to videos, insightful infographics, and templates. Since these tools are digital, they can be quickly and easily gifted to any number of customers. With the help of marketing automation tools, you can send your content gift using email, social media, and landing pages.
The primary challenge with this gifting program is that you will need time and access to industry expertise to create content that is genuinely useful to your customers. It is perfectly fine to create content that showcases your company's expertise in an area but avoid gifting content that is a thinly veiled pitch for your product.
The limitation of this approach is that it is hard to make an emotional connection with generic content. The recipient may value the content, but may not feel personally valued and appreciated. Of the three gifting programs that we recommend, this is the one that creates the least engagement and excitement at a personal level.
Send Personalized Merchandise
Sending physical merchandise, such as wine and gourmet gift baskets, is sure to create excitement and engagement. However, of the three gifting programs that we recommend here, this is the one that requires the most time, effort and budget. Physical gifts tend to be on the expensive side, incur shipping costs, and require proactive planning to meet vendor lead times. Things can get out of control quickly when stakeholders start demanding lots of variations and customizations for their special customers and contacts. This, combined with safety concerns and shipping delays due to the current pandemic, makes physical gifting a real challenge this year.
The key to scaling a physical gifting program is to limit and standardize on gift options. Get together with customer stakeholders (e.g., sales, support, and professional services) to agree on segmenting customers into no more than three to five groups. For example, you could segment customers into potential customers, strategic customers, and all other customers. Then agree on a standard gift for each category. Next, pick a single vendor that can supply gifts for all groups so that you can streamline logistics. Many vendors can ship the gifts directly to customers on your behalf. This can be more expensive than managing the shipping yourself, but it can save you a significant amount of time and resources.
There are a couple of inescapable limitations of physical gifting that you must be aware of at the very outset. First, you must have the most up-to-date mailing addresses for your customers. This could be a challenge as more and more companies interact with customers primarily through inside sales teams and digital channels like email. Especially when you consider that due to social distancing efforts, many companies don't even have a physical office location anymore. Second, if you have global customers, shipping physical gifts to customers outside your home country can be costly. In such situations, digital gifting, which we will discuss in the next section, is a much more viable option.
Give e-Gift Cards and e-Donations 
Digital gifts like e-gift cards and e-donations give marketers a dramatically faster, easier and more efficient way to spread the holiday cheer. Thoughtful and exciting e-gift cards are available in virtually every category including holiday favorites—shopping, dining, music, and entertainment. And it is possible to buy e-gift cards such as DoorDash and Apple for as little as $5. This range of choice and flexibility means that you can find gifts that match a variety of different gifting goals and budgets.
Digital gifts can be easily scaled and sent to thousands of customers using a marketing automation tool like Marketo and Hubspot. You can make the gifting experience memorable by customizing the email and landing pages with your own branding and creative messaging. You can even use tracking to have sales give the customer a call when they claim their gift. This gives your sales team a valuable opportunity to nurture relationships.
If you're not sure what your customers really want, digital gifting services allow you to set up a curated selection of gifts and donations. Your customers can choose the gift they love. Or, if they prefer, they can donate the value of their gift to a charity of their choice.
Electronic delivery means there is less room for error compared to physical delivery. And you don't have to worry about delivery lead times and mailing deadlines. Plus, e-gifts like international gift cards or virtual Visa gift cards make it easy for you to send e-gifts to customers around the globe with the same ease and speed. Your recipients will appreciate the safety and ease of use of their digital gifts.
Aligning Holiday Gifting With Your ABM Strategy 
If you are running an ABM strategy, you have already identified your potential high-value accounts. ABM makes gifting very targeted and effective. You can use each of the above programs based on where your ABM accounts are in the buyer's journey. Further segment your ABM list into top-of-the-funnel ABM prospects, ABM prospects with active opportunities, and high-value ABM customers that you want to grow into larger accounts.
For top-of-the-funnel ABM prospects, supply useful content. Content gifting will help you build credibility with top-of-the-funnel prospects. For ABM prospects with active opportunities, create more engagement and excitement with e-gift cards. These customers have already taken a bit of time to learn about your company, and you want to say thank you with e-gifts. You can even attach targeted content like eBooks to your e-gifts. For high-value ABM customers that you are trying to grow into larger accounts, send personalized merchandise. Personalized merchandise will be memorable and will promote goodwill that you can leverage as you nurture those accounts.
The holidays are a unique, once-a-year opportunity to enhance relationships with customers by showing appreciation. You can make the most if this opportunity by running a holiday gifting program.  Running a holiday program does not have to be onerous and time-consuming. Use the three programs described above to create your own holiday gifting program that can be executed quickly, efficiently and with significant impact.
Check out our eBook (with planning checklist and holiday email template) and learn how to build, execute and track an unforgettable holiday marketing campaign!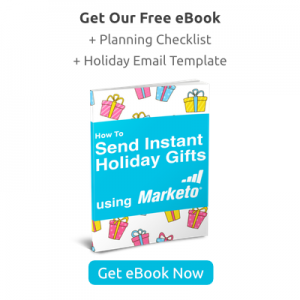 This post originally ran on The Marketo Blog 11/09/17.